We would like to express our sincere gratitude for your continued support for our products.
We have found that some of the "adhesive spare tapes (wide type, 80 laps x 2)" that we sell have insufficient dimensions.
We sincerely apologize for the inconvenience caused to all concerned parties, including customers who purchased the product.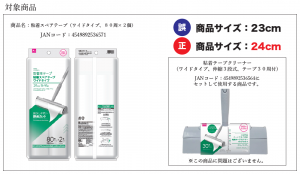 If you wish to return it
① If you bring it to the store, we will keep it on the spot and refund it.
(2) If you cannot bring it to the store, please send the actual product to the following product delivery address by cash on delivery.
We will refund you by postal exchange at a later date.
Please see here for details.
We will continue to carry out thorough quality control and work to prevent recurrence.