Daiso industries Co., Ltd., Ltd. (Higashi-Hiroshima City, Hiroshima Prefecture, President: Seiji Yano) is the second in a series that aims to contribute to a sustainable society, using thinned wood and domestic timber from Hinohara Village, Tokyo. Stationery products such as gift bags and notepads and kitchen utensils such as rice cakes and chopsticks will be on sale from Saturday, December 25, 2021 at two stores, Standard Products by DAISO (hereinafter referred to as "Standard Products"). I will do it.
Standard Products strives to provide products that are environmentally friendly and contribute to a sustainable society by carefully selecting high-quality and comfortable products that can be used for a long time, based on the concept of "a little good is much better."
Following the hinoki oil and chopsticks made from domestic wood and thinned wood released in October 2021, the second edition is a cypress gift bag, Hinohara village in Tokyo, thinned wood, cherry blossoms, and walnuts. We will release notepads that use Japanese cypress wood for the cover.
[Click here for details]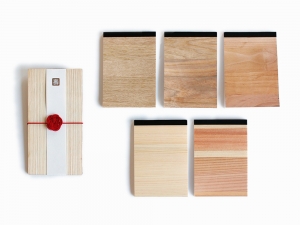 ■ About Standard Products
"Standard Products" is a basic product that is easy to incorporate into our daily lives, responding to the growing need to use high-quality and comfortable products for a long time due to changes in the environment and lifestyle with the concept of "a little good is much better". We carry about 2,000 items specializing in sophisticated designs.
The first store was opened in Shibuya Mark City, Shibuya-ku, Tokyo on March 26, 2021 as a business format that strengthened product development that is conscious of environmentally friendly materials, sustainability and environmental issues, and on October 22, 2021 in Tokyo. We are opening the second store of Shinjuku Alta in Shibuya-ku, Tokyo.
https://standardproducts.jp
■ Standard Products Shibuya Mark City Store Overview
Business hours: 9:30 – 21:00
Holidays: Same as Shibuya Mark City
Year-end and New Year holidays: December 31st (Friday) 9: 30-19: 00, January 1st (Saturday) closed, January 2nd (Sunday) 9: 30-20: 00
Address: 1-12-1 Dogenzaka, Shibuya-ku, Tokyo Shibuya Mark City 1st floor
Store area: 83 tsubo (about 274 square meters)
■ Standard Products Shinjuku Alta Store Overview
Business hours: 11: 00-20: 30
Holidays: Same as Shinjuku Alta
Year-end and New Year holidays: December 31st (Friday) 11: 00-18: 00, January 1st (Saturday) closed, January 2nd (Sunday) 10: 00-20: 30
Address: Shinjuku Alta 1F, 3-24-3 Shinjuku, Shinjuku-ku, Tokyo
Store area: 145.12 tsubo (about 479 square meters)